1. E-learning: Introduction to Enterprise Risk & Resilience
2. Risk & Resilience Training Programme
3. Bespoke Learning
At a time when risk and resilience has never been more important, this one hour E-learning course provides everyone with an introduction to such a wide ranging subject. The course utilises a blended learning approach to engage the learner, bringing together interactive exercises, video, narrative, and graphics the learner is taken on an enjoyable and structured journey through risk and resilience management.
Key learning objectives:
Introduces key concepts, definitions and international standards
Demonstrates the importance of risk and resilience management and the benefits it offers an organisation
Explores the concept of risk culture
Reviews the context, maturity levels, roles and responsibilities involved with risk and resilience management
Examines each step of the risk process
Introduces the concept of business continuity management and its role in risk and resilience management.
Our online learning solutions are delivered in partnership with the Institute of Risk Management.
BOOK OUR ONLINE RISK AND RESILIENCE PROGRAMME
BOOK OUR ONLINE RISK AND RESILIENCE LEADERSHIP PROGRAMME – IN PARTNERSHIP WITH UK FINANCE.
This training program provides an overview of risk and resilience management, focusing on five key areas in five one-hour sessions. Our aim is to empower businesses and individuals to maximise opportunities and minimise threats in the workplace. This course will provide worked-through examples to bring the theory to life, looking at an organisation's ability to adapt to a changing risk landscape.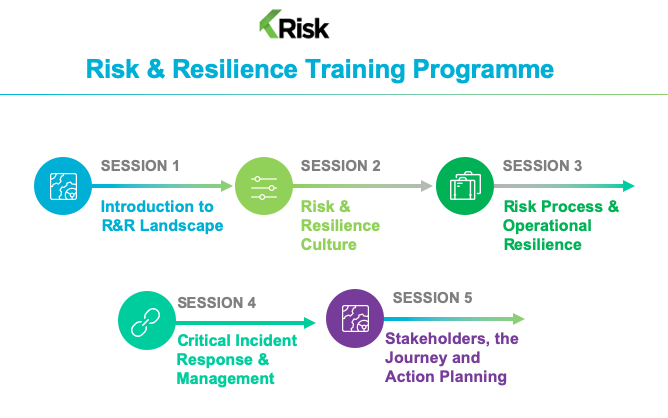 Duration and format:
Five one-hour sessions of recorded training material
Exercises and questions throughout the training
Downloadable templates
An end of course assessment
Completion certificate
Key learning objectives:
Explore risk and resilience and the benefits it offers an organisation
Better understand the current risk landscape including the effects of the Covid-19 pandemic.
Learn about risk culture and why it is so important to an effective work environment.
Learn about the tools and techniques for implementing a risk and resilience approach.
Look at examples of industry disruptions and how to respond and recover to critical incidents.

Many of our clients come to us knowing that they want to raise risk and resilience competence and capability at various levels of their organisation but don't know where to start. Often they have an idea of what they are looking to achieve whether it be a board room briefing and/or executive coaching and mentoring to keep their leaders a step ahead. Bringing wider management together to ensure functional heads are aligned to the strategy and are operating in a consistent way. Up-skilling new risk/resilience champions to ensure they have the confidence and knowledge to support the organisation effectively. Or wider risk and resilience awareness and communication to all employees, contractors and extended enterprise.
Whatever the requirements we can use the base of our public and previous in-house courses and programmes that have been tried tested by thousands of delegates and approved by leading educational risk institutes to ensure we can make the process effortless for you.
We start by understanding your needs and because we have such vast resources we can easily and efficiently tailor a programme that suits your needs.
Please don't hesitate to GET IN CONTACT to discuss your requirements.
CLICK HERE for more in-house management learning solutions.